Not sleeping well?
Are you under a lot of pressure?
Do you travel a lot?
Meet Dormirin RAPID.
Unique product on natural basis with melatonin to quickly fall in peaceful sleep!

Dormirin RAPID is a new product with melatonin, which allows faster sleeping and calm and quality sleep.
Dormirin is produced in Croatia according to the highest quality standards, and thanks to carefully selected ingredients that are not addictive to improve the quality of sleep.
INGREDIENTS
Contains melatonin, which contributes to reduce the time needed to fall a sleep
Effective ally in the fight against jet lag thanks to melatonin, which helps to alleviate subjective feelings of jet lag and regulate sleep cycle
Natural ingredients for quality sleep, without the addiction
1Dormirin contains 1 mg of melatonin
 THE WAY OF USE: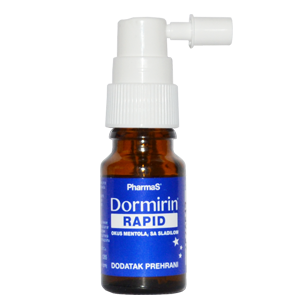 1. Spray one dose under the tongue
2. Wait 30 seconds before swallowing
DREAMS AND REALITY


GOOD SLEEP HABITS

Good sleep depends not only on your night rest, but also on your daily activities...

FIND OUT MORE


SLEEPING POSITIONS

When we are in a dream world it is hard to control what position you sleep...


FIND OUT MORE


WHAT IS A DREAM

Dreams occur during sleep, which consists of four stages...


FIND OUT MORE
Find out more tips on how to improve health, and to further improve the quality of your life on our Health Wall.